Satellite images are not just photos taken from space. The satellite sensors measure many different internal and external characteristics of the field and plants, comparable to sensor-guided material tests.
On a daily basis, satellites record a complete scan of the earth's surface. With worldwide uniformity, satellites measure and provide objective data. Through near-infrared and radar sensors, they see much more than the human eye. Our algorithms convert the satellite measurements into coordinate-specific information that shows:
The current biomass

The vitality and yield potential in a cultivation

Which fields will flourish, and which will flop

The field potential in every part of the field

Where small-scale soil differences in a field are located

Where plants on the field show signs of deficiency, whether induced by disease, drought or cultivation error
It is the reaction of the plants and the soil to all site-specific parameters that the satellite systems detect through the obtained images.
We use these valuable measurements to create an objective picture of the productive capacity of your land. Or, we assist in the cultivation of the land by providing current satellite image maps as decision support for imminent treatment measures. Based on the plant growth and yield productivity measured via satellite imagery, we can also continuously monitor the performance of all operations.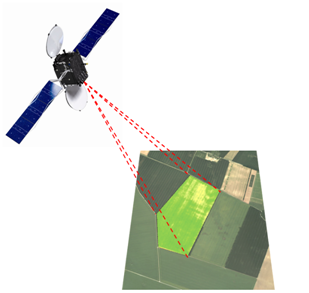 Don't let yourself be fooled – Speculation is a way of the past – Satellite imagery is a technology for today – and is at your service to ensure the success and sustainability of your investments.
This post is also available in:

Deutsch